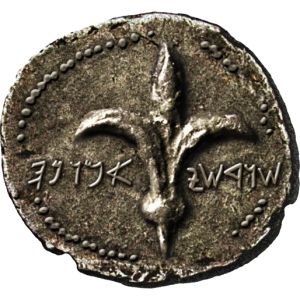 According to the Hebrew Bible, the lily flower or shushan was incorporated into the design of the Hebrew Temple (I Kings 7:19, 22, 26). It was also featured on ancient Hebrew coinage. The prophet Hosea compares returning Israel to a blossoming lily (Hosea 14:5). Nobility often used the lily flower, particularly the French by the designation Fleur De Lis, and because of its rich French heritage, Louisiana places special significance on the lily.
Designer, Daniel M. Wright masterfully incorporated these elements into a logo for Louisiana based religious educational ministry, Roots of Faith.
The design was inspired by a 4th Century BCE Yehud coin, which also featured the shushan flower. The inscription is in Paleo Hebrew and says, Shorshei Emunah, which is translated as Roots of Faith. The words were written by Ross Nichols in this ancient script and incorporated into the logo's design.