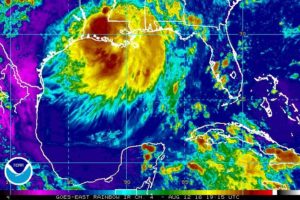 נשאו נהרות יהוה נשאו נהרות קולם; ישאו נהרות דכים
Psalm 93:3, when translated closely, describes the present situation in Louisiana.
"Rivers lift up, O YHVH (LORD), rivers, they lift up their voice; rivers lift up their pounding."
Rain continues to fall, in what some are now calling a 500-year rainfall event. Countless residents have been misplaced from their homes, having left everything behind to seek safety. Losses are inestimable. Everyone is watching the waters of our many rivers rise, as the rain shows no sign of slacking.
Please pray for the safety of the fine people of Louisiana. Pray for those who live in danger's way, and for those brave emergency personnel who are going into these areas to help them.
IR Image from wunderground.com / Credit NOAA / NESDIS